How to Forward and Redirect Your Domain Name
How to Forward and Redirect Your Domain Name
1. Go to https://register.dotarai.com and login to your account. Select the Domain (1.1) tab to bring up a list of your domains, along with the available options to view their details. Click on the View (1.2) button next to the domain name that you wish to edit to bring up the domain's information. 
2. Check to see if your Name Servers are set to ns1.dotarai.com and ns2.dotarai.com. If so, you may proceed further otherwise you need to contact your Name Server provider to do the Forward/Redirect.
3. Click on Options, as shown in the picture.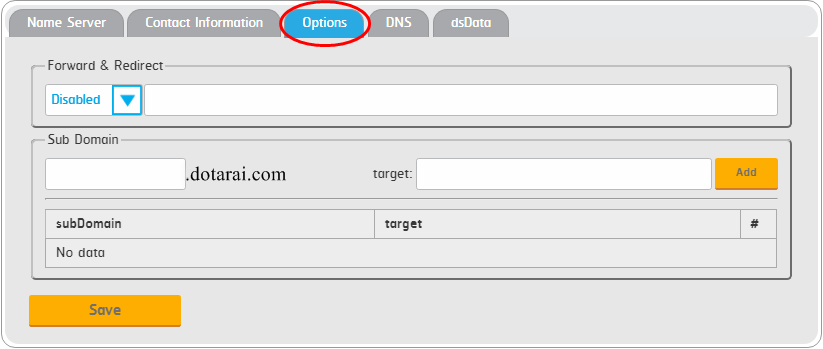 4. In the dropdown menu below (4.1 as shown in the picture), select either URL Forwarding or URL Redirect, where
***Forwarding means that the URL that is typed into your browser (and the URL that is shown) would be your domain's but the contents displayed will be that of the target URL.
***Redirect means that the URL that you type will be changed to the target URL (meaning you will be taken to that website), as well as the contents displayed, will be that of the target URL.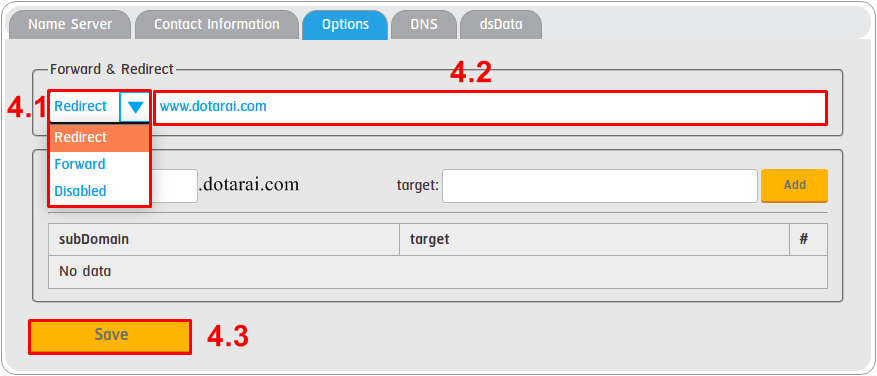 After that, enter the URL that you would like to point to in the empty field (4.2) next to the drop-down menu, as shown in the picture, then press save (4.3).
**When you have completed these steps, your website should be forwarded or redirected in 1-2 hours.
Note: If your target URL is either Facebook or Google Site, you must use the only URL Redirect as URL Forwarding is not accepted for those sites.